U.K. Business Expectations Fall 'Off a Cliff' on Brexit Vote
Confidence of British executives plunged and pessimism doubled as the Brexit turmoil stoked concerns that business investment and the property market are poised to slump.

An index published by YouGov Plc and the Centre for Economics and Business Research on Tuesday tumbled to 105 from 112.6 in the three days ended June 23, the referendum date. The survey, which was carried out between June 28 and July 1, also found the proportion of businesses that are pessimistic about the economic outlook climbed to 49 percent from 25 percent.

"These figures show what is happening on the ground and they suggest a significant shock reaction," said the institute's director, Scott Corfe. "Not only are businesses feeling much more pessimistic in general about the state of the economy, but their own expectations for domestic sales, exports and investments over the next 12 months have gone off a cliff."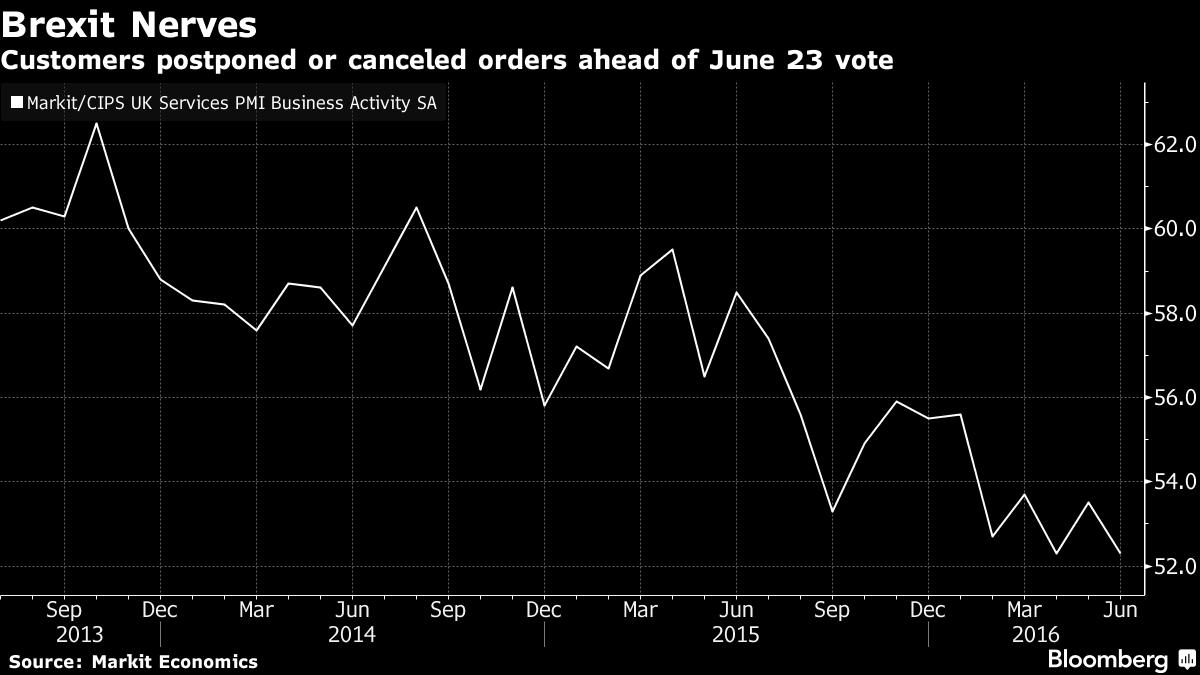 The survey was released hours after Standard Life Investments suspended trading in its 2.9 billion-pound ($3.9 billion) U.K. Real Estate fund amid a flood of withdrawals, the strongest signal yet that the turmoil from the Brexit vote will probably hit the property market. Underscoring executives' concerns that policy makers will fail to act with both main political parties in chaos, five of the biggest U.K. business groups appealed for government action.

Brexit referendum nerves already took their toll on U.K. services firms in June as customers postponed or canceled orders, sending business confidence to a 3 1/2-year low, Markit Economics said in London on Tuesday. A Purchasing Managers' Index fell to 52.3 from 53.5 in May. The reading was weaker than the 52.8 forecast in a Bloomberg survey but above the 50 mark dividing expansion from contraction.

"A further slowing, and possible contraction, looks highly likely in coming months as a result of the uncertainty created by the EU referendum," Chris Williamson, chief economist at Markit, said in the report. "Hiring has also clearly been hit as firms lack clarity on the economic outlook."

Almost three quarters of economists surveyed by Bloomberg expect the U.K. to slide into recession and Bank of England Governor Mark Carney says that the outlook for the economy has "deteriorated." He will speak at a news conference at 11 a.m. in London after the release of the central bank's bi-annual Financial Stability Report.