Tesla Powerwalls for Home Energy Storage Are Hitting U.S. Market
To Steve Yates, the best thing about his new Tesla Powerwall is that he doesn't have to worry anymore about the lights going out during a storm. Or maybe it's how cool an addition it is to the entryway of his house in Monkton, Vermont.

"I've always wanted to have a backup power source," said Yates, who was without electricity for 36 hours during Hurricane Irene in 2011. He also admires the Powerwall's sleek white contours. "It's kind of art-deco looking."

A year after Elon Musk unveiled the Powerwall at Tesla Motors Inc.'s design studio near Los Angeles, the first wave of residential installations has started in the U.S. The 6.4-kilowatt-hour unit stores electricity from home solar systems and provides backup in the case of a conventional outage. Weighing 214 pounds and standing about 4-feet tall, it retails for around $3,000. But hookup by a trained electrician is required, as is something called a bi-directional inverter that converts direct-current electricity into the kind used by dishwashers and refrigerators. The costs add up quickly -- which has fueled skepticism about Musk's dream of changing the way the world uses energy.

Net-metering policies, which allow residential solar customers to sell their excess solar electricity back to utilities, have limited the appeal of home batteries in many states. But that's shifting: Net metering is being phased out in some states, making storage more attractive.

"The picture is rapidly changing across several markets," said Yayoi Sekine, an analyst for Bloomberg New Energy Finance. "Changes to net-metering policies and implementation of time-of-use rates will improve the case for residential energy storage systems going forward."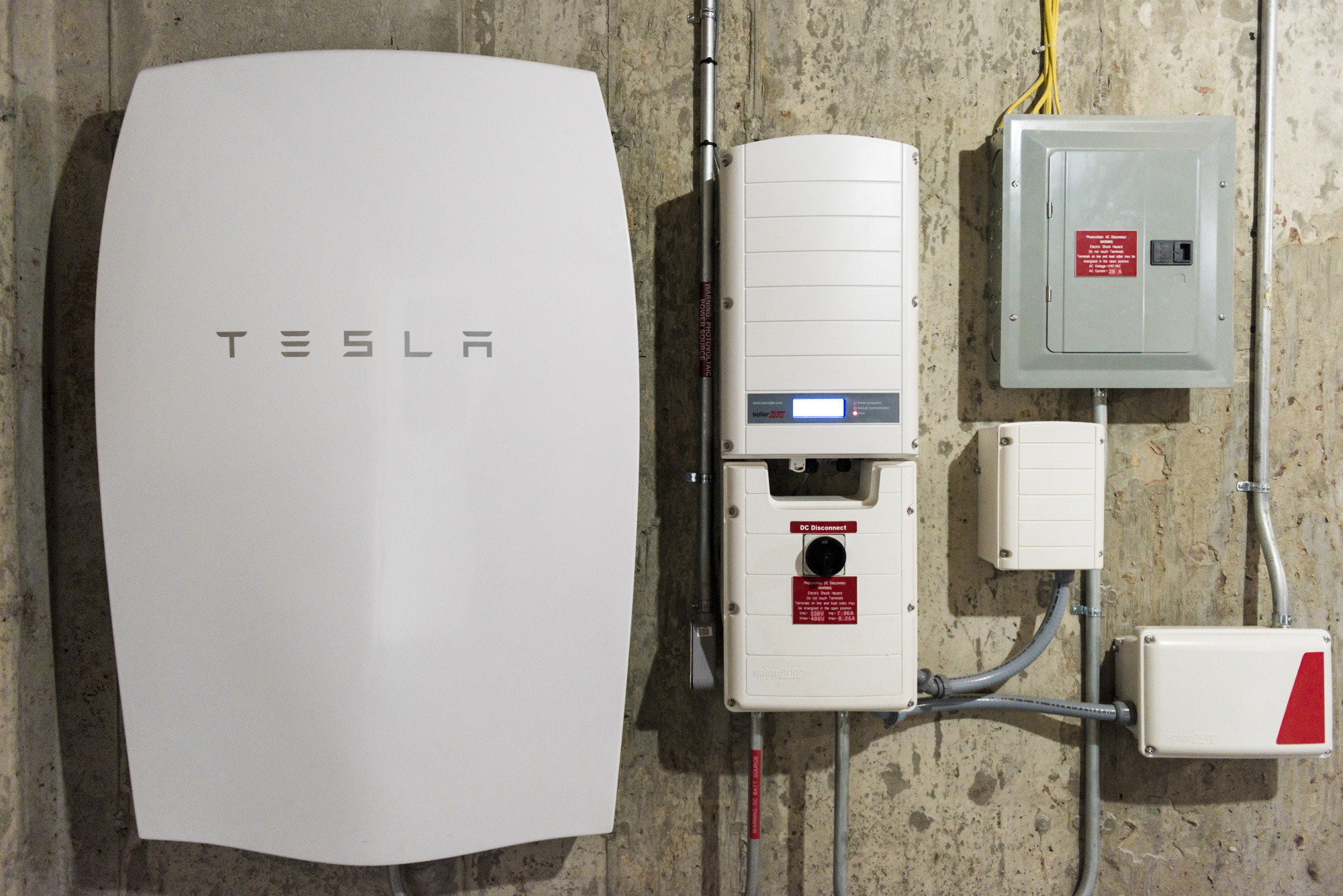 Sales Emerging

For Yates, money wasn't an issue: he got his unit for free from Green Mountain Power as part of a pilot program. Tesla, which reports first-quarter earnings Wednesday, hasn't disclosed sales figures. But it had said it anticipated the unit quickly growing to a multibillion dollar business, and some people are clearly willing to pony up. Snapshots of early Powerwall installations in Australia, South Africa and Europe have begun popping up on social media by customers who want early bragging rights. Mark Kerr of Wales describes himself in his Twitter profile as the "First Tesla U.K. owner of fully operational Powerwall battery unit and it feels good."

Tesla's Powerwalls -- and the larger Powerpacks for businesses and utilities -- are made at the company's gigafactory for battery production east of Reno, Nevada. The two products are part of Tesla Energy, which is its own business unit.

"It's starting to ramp up," said JB Straubel, chief technology officer and a member of Tesla's founding team, in an interview at the gigafactory. "They are going in all around the world. It's happening."

Customer Range

Consumer interest runs from rural residents eager for an alternative to diesel generators to Tesla loyalists who support the company's mission of accelerating the transition to sustainable transportation and are forgiving of the company's notorious product delays. Powerwall deliveries were originally supposed to begin last summer.

Rosemary Brisco of San Mateo, California, is among those seeking the trifecta: a Tesla in the driveway, solar panels on the roof and a Powerwall to optimize both.

"We put off going solar until there was a way to back it up," said Brisco, who has driven a silver Model S sedan since 2013. "Now we're going solar and getting a Powerwall at the same time." Installation is set for next week.

The market for Tesla Energy also includes utilities that want to better integrate renewable energy and make their grids more efficient. Some are selling or leasing Powerwalls directly to ratepayers.

Sales Model

It's a business-model switch for the Palo Alto, California-based company that's best known for its electric vehicles. Tesla sells its cars directly to consumers, without dealership intermediaries. But with roughly 3,000 utilities in the U.S. -- each with different rate structures -- the market for home energy storage is fragmented and hard to predict. So in a departure, Tesla has teamed with utilities, solar companies and others to get Powerwalls into people's homes.

"The drivers in each place are a little bit different," said Straubel of the market. "There's a smattering of installations across the U.S. that roughly follows the same pattern of people who are buying our cars; there's decent overlap and mind-set there in customer base."

In Vermont, Green Mountain Power covers 75 percent of the state and serves 265,000 customers. One of the nation's smallest investor-owned utilities, GMP made an initial purchase of 500 Powerwalls from Tesla and, in turn, is making them available to customers through direct sale or lease; 10 customers got them for free through the pilot program. More than 700 residential customers have expressed interest in paying for them.

"We're confident that we will sell or lease every one," said CEO Mary Powell. "We're trying to transform a 100-year-old electric grid, and Tesla is killing it in terms of driving down cost while constantly improving the technology."

If a GMP customer wants to own the Powerwall outright, the utility charges $6,501 -- which includes the bi-directional inverter, sales tax and a 20 percent markup covering GMP's costs that will eventually flow back to customers in lower rates. Another option has GMP installing, owning and maintaining the Powerwall; customers pay nothing upfront but $1.25 per day or $37.50 a month.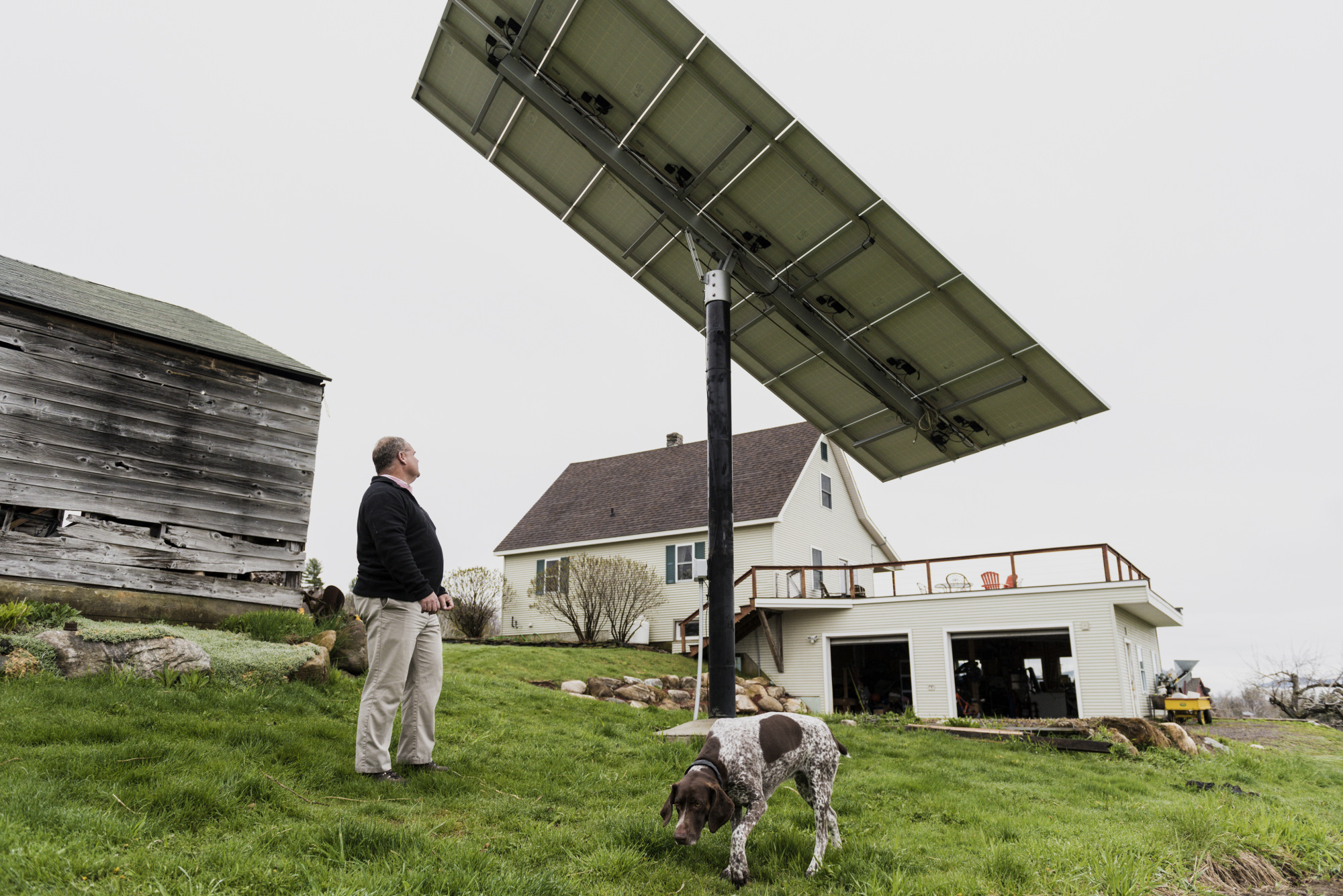 Aloha, Batteries

Hawaii, where electricity prices are almost triple the U.S. average and rooftop solar is abundant, is a strong market. Several solar companies are marketing the Powerwall, and Anthony Aalto, a documentary filmmaker on the island of Oahu, has two that he purchased from Sunrun, a residential solar company, hanging in his carport.

"The idea is that I power my house with solar, and whatever is left over charges my Tesla batteries. Then at night, I power my house with the batteries," Aalto said. "Climate change is accelerating. We have to do something."